When I logged onto social media that day, I was SHOOK! I was a little hurt but a lotta salty! Getting rejected by someone I liked was a hard enough pill to swallow, but to see that he was in a WHOLE relationship with someone else just left me STING'N. Every tweet, IG and FB post I seen was him and her, and it brought me back to the moment we both realized that I was playin'.
Let me explain:
Before the true end of my relationship, my ex and I took a very long break. During that time,  I also got closer to an old friend that I was working with. We didn't hang out much due to distance and schedules, but we talked…habitually. For your need-to-know, I'll refer to him as Mr. Self-made. We talked about everything from travel, dreams to goals, and all the in between. I finally decided for certain that my ex and I wouldn't get back together, and to be real, Mr. Self-made was a big reason why. 
I won't say I left my ex for him (because we all know how that went down), rather the idea of someone like him. He was literally everything a girl could ask for in a guy… everything I wished my EX coulda been. He was sweet, self-motivated, intellectual, cute, accepting, spiritual, fine, genuine and, did I mention he was a snack??! I knew that if I had a chance to get that, then there was no reason I should still be in my bogus relationship. 
We continued to get a little closer, and although the last thing I wanted to do was rush into another relationship, I was willing to take time really getting to know him. I felt like I knew there was a mutual like between us, but I couldn't bring myself to expose any of my feelings. One night we kicked it until 4 in the AM, just talking and kinda being cute or whateva, and then he kissed me… 
Instead of soaking in that moment, I gently pushed him away. It's not like I didn't want him to kiss me, I was just so taken back that all I could say was "I just got out of a relationship…" 
I wanted to finish my sentence and let him know that I just needed to take my time. Instead he apologized, commented on my soft lips, and all I could do was awkwardly create small talk of my lip care regimen (aloe vera gel + vasoline E. night). We hung out another time and I really wanted to bring that night up, but I wasn't willing to set myself up to be rejected and hurt by another guy, so I kept quiet. 
Time went on and we talked less and less. Until one day, he hit me up and I figured that I was finally ready to express my feelings to him, because better late than never, right? I decided that I would "shoot my shot"…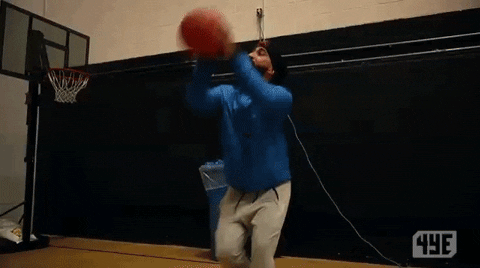 and BOOOOOOY did that thang BRICK!
He told me he had no clue that I liked him, and he also told me that "it wasn't the right time" for him to be in a relationship *rolls eyes* I was UPSET (in my Drake voice). For the longest I was a little bitter. That same hurt and rejection that I tried to avoid by keeping my mouth shut was the same feelings I felt when I finally spoke up. 
But the main reason I was so butt-hurt, was because I knew that I got in my own way. I was not emotionally prepared to be open and put my feelings on the line for another man, even if he was a good guy. As much as I wanted to believe that I could welcome him into my life, I just wasn't ready! 
It was hard to come to terms with my role in this, but I believe it all worked out for the best. I was at the most vulnerable point in my adult life, and getting into another relationship truly wasn't the best idea. "Hurt people hurt people" is what they say, and I would've hated to inflict the same pain I endured onto someone else. 
Mr. Self-made helped me learn a lot about myself, like the fact that clearly I don't take rejection well. That lesson helped me see that I was truly an emotional hot mess! God had a reason for me sitting that relationship out because I'm still bearing scars from my past. By God presenting Mr. Self-made to me, he was able to show me that I was worth more than what I was putting up with. I deserve someone who carried the good qualities of Mr. Self-made, AND THEN SOME! It shouldn't take a man to show me that I needed to move on from where I was, but God is good at speaking my language.
Out of all of the embarrassment of pouring out my feelings, taking a risk at being vulnerable and getting rejected in the end, I can still feel good about myself. To think that at my lowest of lows I was able to attract a beautiful soul like Mr. Self-made, I just think about what I will attract when I'm at my best.
#BrInspired
IG @briamcarey
Brianna Carey is the founder of  #BrInspired, an online journal of her life experiences and lessons learned. The purpose of #BrInspired is to inspire at least one woman to be "God's kind of beautiful" in life, in relationships and in herself.
Share your story with Black Honey Collective! Learn more.
Please reload